Port d'Alcudia
Boat Rental Mallorca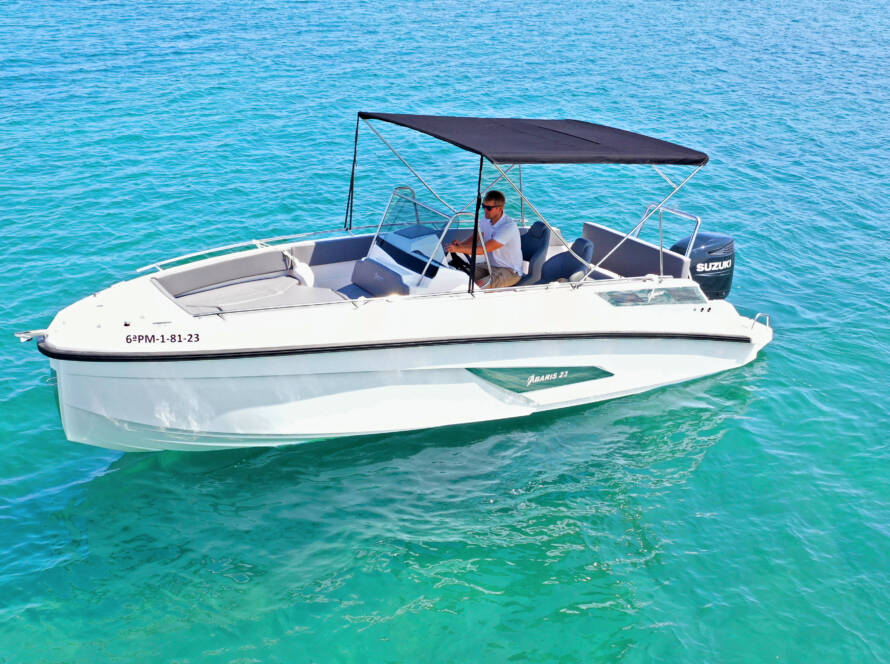 | | |
| --- | --- |
| 4 hours | 550 EUR |
| 8 hours | 690 EUR |
| Skipper | 200 EUR |
| Deposit | 1000 EUR |
| Fuel | not included |
| | |
| --- | --- |
| 4 hours | 650 EUR |
| 8 hours | 900 EUR |
| Skipper | 200 EUR |
| Deposit | 2000 EUR |
| Fuel | not included |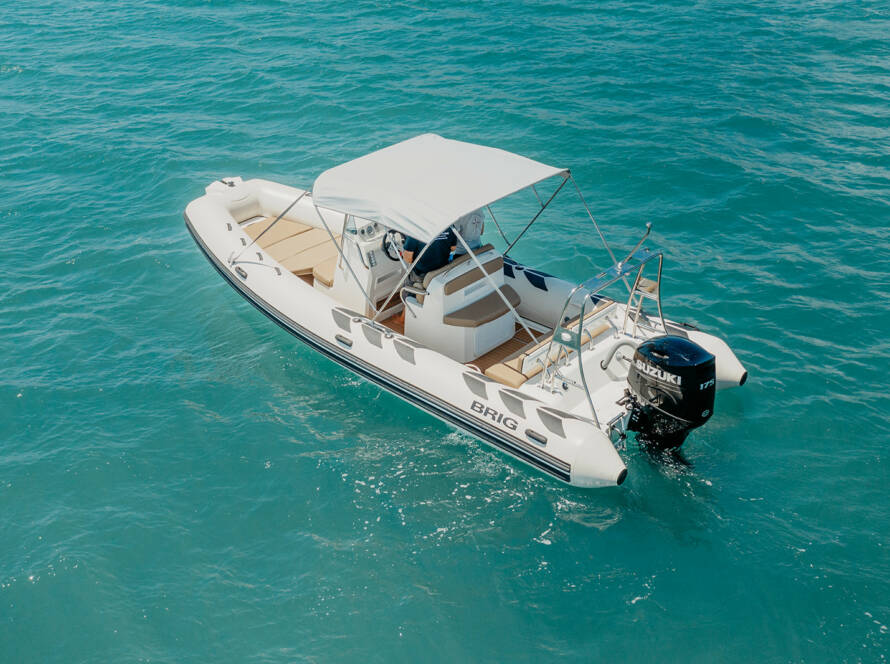 | | |
| --- | --- |
| 4 hours | 450 EUR |
| 8 hours | 560 EUR |
| Skipper | 200 EUR |
| Deposit | 1000 EUR |
| Fuel | not included |
We Offer
Boats for every
occasion
Explore paradise beaches and secret little bays only accessible from the offshore. Rent your favourite boat in Port d'Alcudia and have an unforgettable experience.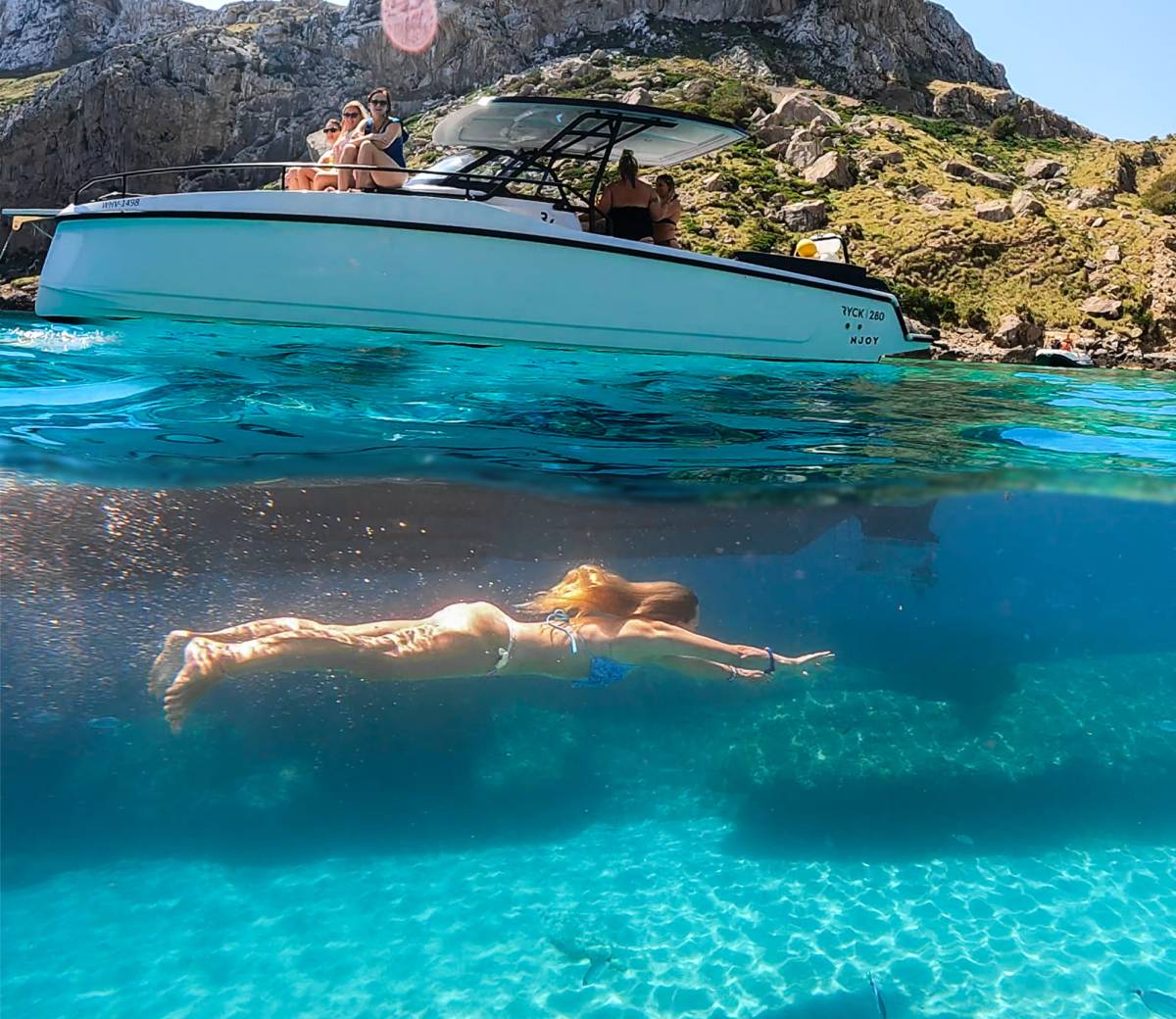 Fantastic ⭐️⭐️⭐️⭐️⭐️ Good experience, nice boat and proper instructions on how the boat worked. it was nice to have a map and cool box. Professional and friendly staff 😊
Amazing summer trip Absolutely gorgues trip . Beautiful turquose water with plenty of fisches.It was really nice because we could swim close to small beahes where it's difficlt to arrive. We saw great caves and we could enjoy unbelievable great bath in the most amazing tuquose see water I've seen in my life. Team was very nice and they explained us where to go to see the most amazing places on the sea. Highly recommended.
Fabulous day What a day! From start to finish! Friends and I hired a boat with captain! It's a must. We had an absolute blast of a day! The company Quest Heroes were extremely professional and made everything so easy! You made our holiday and boating experience memorable Quest Heroes!! Thank you
Must do in Alcudia!!! Fantastic day on the boat with my girls! Exceptional service, super friendly staff ☺️ We have to repeat this very soon 🛥️
Amazing girls boat trip with captain It was amazing day with girls and a booked captain who showed us the nicest places, bays and also some caves. It was lots of fun and an unforgettable day! Questheroes did everything to make us happy. And the boat Rick 280 was amazing. Thank you!!! 🫶
Gelungener Bootstag Super Leute, super Boot. 🚤 Danke dafür 👍 Wir sind mit dem Boot selbst nach Formentor gefahren, das Tanken danach hat ebenfalls super geklappt, dank der Mitarbeiter. Alles top. 👍
Tres Bonne expérience Très bonne expérience. Nous avons loué ocean master de 140 hp durant une après midi. Tout s'est très bien passé. Le bateau n'est pas tout jeune mais fonctionne correctement. L'équipe est au top.
Just great from start to finish Superb boat, but even better service from everyone - super friendly and helpful - made this outing the perfect day!
Perfect During my recent vacation, I had the opportunity to rent a boat from Quest Heroes. It was an inspired choice, and I want to share a few aspects that made this experience truly special. Quest Heroes demonstrated a high level of professionalism right from the beginning. The rental process was easy and efficient, and their team was extremely punctual. We were greeted with friendly smiles and clear instructions on how to use the watercraft, which gave me confidence that I was in good hands. One aspect that truly made a difference was the team's commitment to ensuring our safety on the water. They provided valuable advice on recommended routes, weather conditions, and little tricks to maximize our experience. This added a sense of safety and comfort that was invaluable. The rental price was also very affordable, allowing me to enjoy the water adventure without exceeding my budget. In conclusion, Quest Heroes is truly a trustworthy company that offers a wonderful boating experience. If you want to enjoy a worry-free day or more on the water with full professionalism, I highly recommend trying their services. I will certainly return with great pleasure to repeat this wonderful experience. Thank you once again for an unforgettable vacation!